Farmall and International Harvester
The Farmall A and B were nearly identical tractors. The A featured an offset engine and wide front end. The offset engine was known as "Cultivision." The B had a centered engine, seat offset to the right, and narrow front end.
The McCormick Harvesting Co., founded by Cyrus Hall McCormick, merged with other manufacturers to form International Harvester Co., primarily building large harvesting equipment. They began experimenting with tractors in 1905 but because of their large size they were not useful for small farmers.
After they refined their small tractor line with their famous letter series--A, B, H & M--beginning in 1939, International Harvester was ranked as one of the largest manufacturers of farm tractors. It was purchased by Tenneco in 1984 and then merged with Case Corp.
1951 Farmall M Propane | S/N FBK284462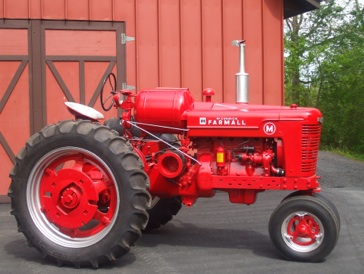 Purchased from Roy Pressley, Mills River, NC
300,000 built 1939-1952
Owners Note: Very few propane versions were built
1953 Farmall Super C | S/N 186790J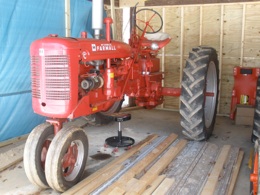 Purchased from Ed Gonce, Mills River, NC
98,310 were built
1948 Farmall H | S/N 290511
Purchased from Ed Gonce, Mills River, NC
391,227 were built
1940 Farmall A | S/N FAA7603 with mower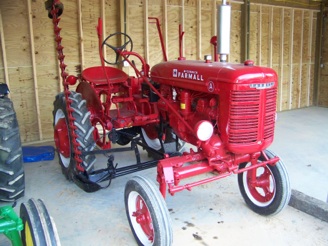 Purchased with accessories from Roger Brown, Columbus NC
182,463 were built from 1939 to 1947